DynaFlex® is proud to offer 3D Metal Printed Bands. This state-of-the-art technology will dramatically decrease patient chair time while ensuring fit and comfort. The care and attention to detail of our manufacturing process results in a better fit and more precise appliance design. Our bands utilize advanced CAD/CAM design.
Improve profitability by eliminating one appointment (National average of $300).
Minimize chair time with quicker appliance delivery.
Exceed your patient's expectations by reducing visits, and delivering their custom appliance with less effort.
Streamline lab submissions for easier staff training now and in the future.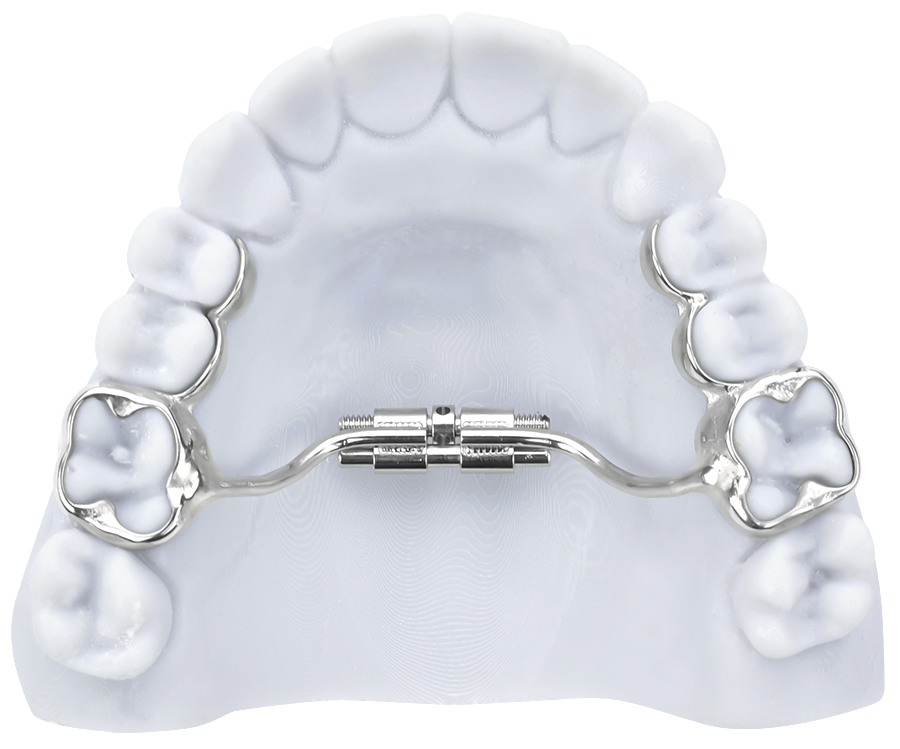 with 3D Metal Printed Bands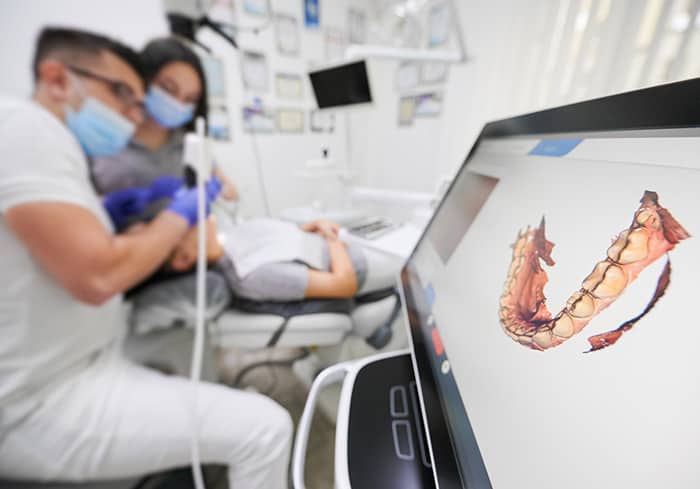 Scan patient normally, capturing a full palate scan. No need to place separators. Upload scan and submit Rx using DynaFusion®.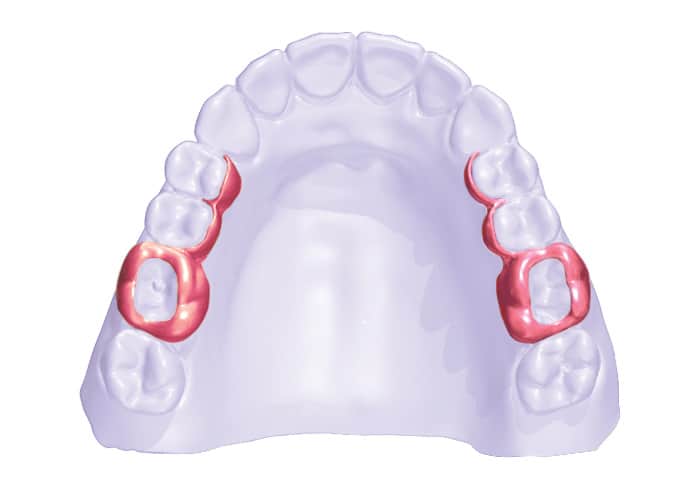 The submitted scan is then used to design custom bands for the appliance. The fileis prepped for printing.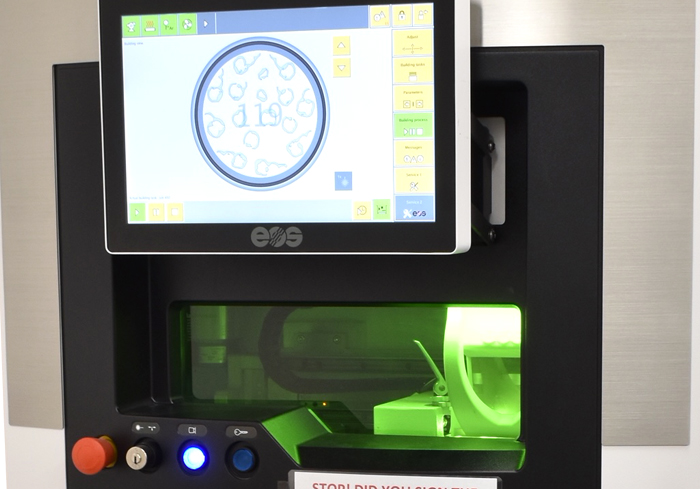 Once the file has b een rendered and prepped by our team, we begin 3D metal printing of the custom bands in-house.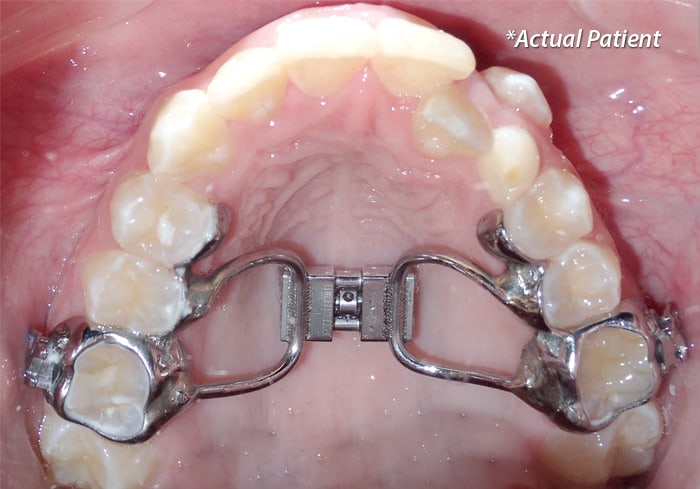 Instructions for bonding or debonding custom printed bands are available below.
*Patient intraoral photo provided by Dr. Brian Klein, Klein Orthodontics
DynaFlex 3D Metal Printed Bands are available on most Fixed Orthodontic Appliances. Simply select the option for 3D Metal Printed Bands on your DynaFusion prescription. If you have questions concerning your appliances being made with 3D Metal Printed Bands, we are here to help! Call our customer care team at 800-489-4020 and speak with a technical advisor.
Bonding:
Follow Standard Band/Crown Appliance Bonding set up. The properties of this metal (316L) are similar to current bands/crowns therefore the bonding method is the same. Many different Glass ionomer or light-cured adhesives will work for bonding, however, we recommend using Reliance Ultra Band-Lok Light Cure Adhesive (DynaFlex® Item #18-UBBPP).
Recommended Steps:
Step 1: Ensure appliance fits patient properly prior to bonding.
Step 2: For stronger bond strength; micro-etch interior of band or wings.
Step 3: It is recommended to acid etch each tooth that will have bonding adhesive.
Step 4: Isolate and prep teeth in normal procedure.
Step 5: Use of bonding booster is recommended but is optional.
Step 6: Small ring of adhesive is placed around the occlusal surface of the crown/band and other surfaces touching teeth per design of appliance.
Step 7: Seat appliance. Use cotton roll or other seating accessory to fully seat appliance if necessary.
Step 8: Clean up flash.
Step 9: Light cure as needed per adhesive instructions.
Debonding:
Debond is similar to traditional band/crown debonding technique.
Recommended Steps:
Step 1: Use band/crown removal instrument (DynaFlex® Item #M-D444). Option: Slit the buccal side of crown with a bur for easy removal.
Step 2: Remove remaining adhesive and properly clean all tooth surfaces where bonding occurred.

HOW TO ORDER IN DYNAFUSION
STEP 1: In DynaFusion®, scroll down to Select Crowns Or Bands To Be Seated.
STEP 2: Select DynaFlex Custom Direct Printed Bands.
STEP 3: Select the correct upper & lower tooth.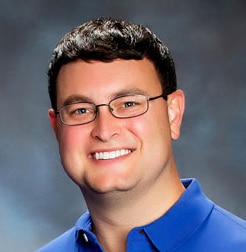 Dr. Brian Klein 
Klein Orthodontics
"

Banded appliance visits used to be kind of stressful. Now they're predictable and relaxed. A couple seconds prepping the patient, a few more seconds placing the appliance, and the rest of the time covering patient education. Fits our workflow about as nicely as it fits in the mouth

"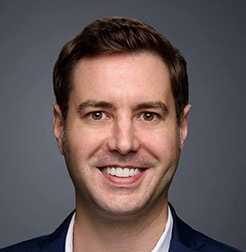 Dr. Christopher Cetta, DMD 
Blue Wave Orthodontics
"

I love the precise fit and digital workflow of the metal 3D printed appliances from DynaFlex®. Simply scan and then cement! No goopy impressions or separators needed. It's a great way to differentiate your practice!

"
Team Up With A Dedicated Lab Designer Today