SmileShare™ Treatment Review Software
SmileShare™ is a major leap forward in Treatment Review and digital prescription submission for SmileShare™ Clear Aligners designed with both the doctor and patient in mind. SmileShare™, specifically designed for our SmileShare™ Clear Aligner Treatment Review Process, is similar to our DynaFusion software in that it creates amazing efficiency while being incredibly simple, easy to use and free. SmileShare™ is a software generated digital treatment system that analyzes the digital scan of your patients teeth and prescribes a treatment plan for a beautiful finished smile. Through a very simple and user friendly software platform, moving and adjusting your patients teeth will be a breeze. With SmileShare™ you will obtain results that clearly exceed the quality, speed, and aesthetics of other systems that use manual processes. Simply use your existing DynaFlex® login to access SmileShare™. After your case is received and processed, you will be able to view it in on online customer portal and within the SmileShare™ software which allows easy tracking of each case.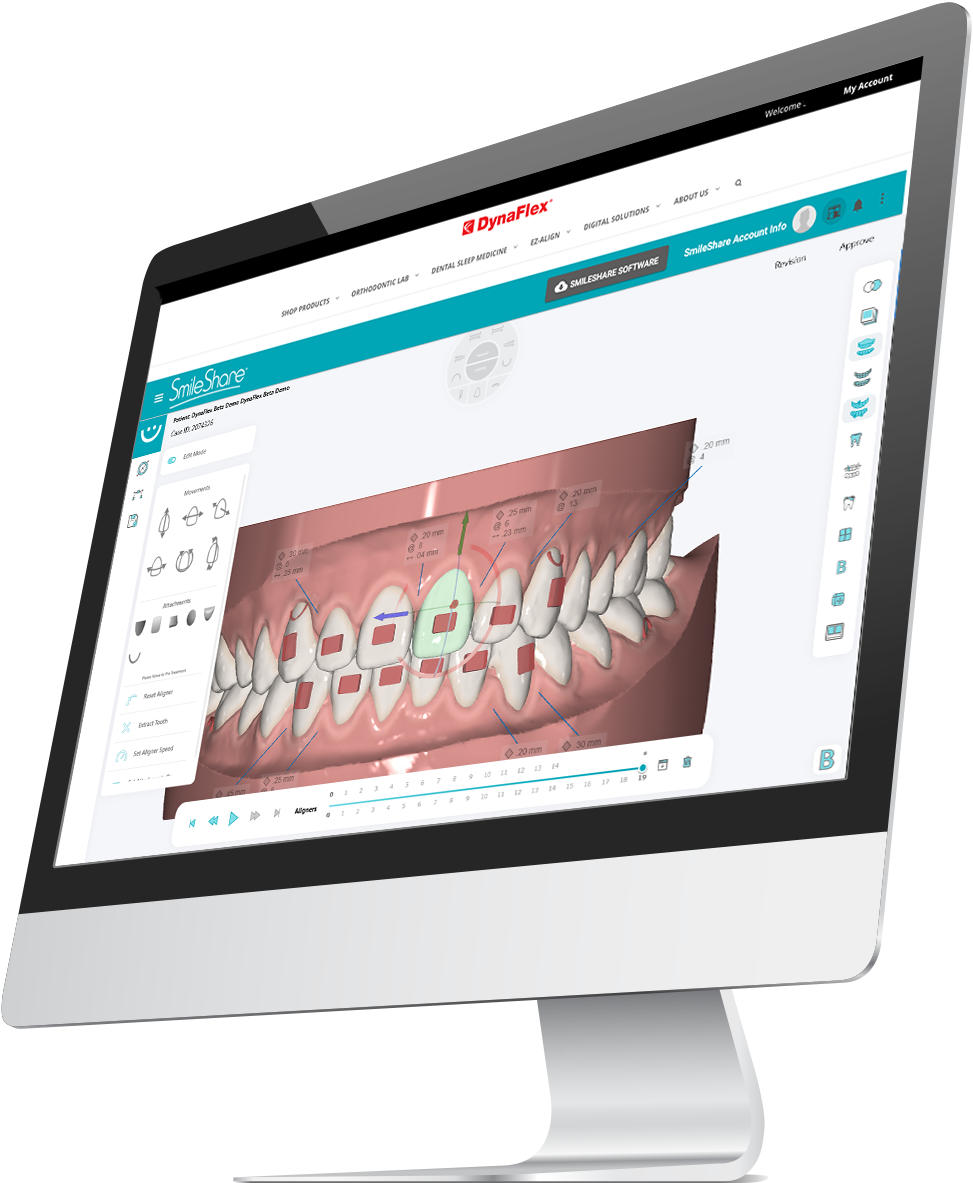 Your patient's treatment is planned and designed by our skilled team based on the digital/physical files and prescription you send to us and as recommended by you, the doctor. SmileShare™ allows you to make small modifications to the digital treatment plan setup using SmileShare™ Design 3D software. This keeps you in control of the patient outcome.
SmileShare™ is free to our SmileShare™ clients and offers unlimited support to make the transition as seamless as possible. We are certain you and your team will love using SmileShare™ for your Clear Aligner treatment planning and reviewing. 

CREATE OR LINK ONLINE ACCOUNT
Your existing DynaFlex Login is required to access the SmileShare software. If you do not have an online account, registering is quick and easy. Visit Account Access Enrollment to submit the necessary information. We will verify your account and send access instructions.
PATIENT IMPRESSIONS:
Use any open source intraoral scanner to take extremely precise and high-resolution digital impressions of your patients. Upload your digital impressions through the SmileShare™ web portal.
SUBMISSION:
Create a patient, upload digital files, and submit an online laboratory prescription.
DIGITAL DESIGN SETUP:
Once the necessary records are loaded, a suggested SmileShare™ Aligner setup is processed.
DIGITAL TREATMENT REVIEW:
A digital treatment solution is created and available for doctor review. With the use of SmileShare software the doctor can review, modify and approve the configuration.
APPLIANCE FABRICATION:
SmileShare™ will produce the SmileShare™ Aligners as approved by your office.
DELIVERY:
Shipping & delivery of SmileShare™ Aligners to your office!
Ready To Get Started or Learn More?
We have a dedicated team of Territory Managers that are positioned across the country to help you. Fill out the form below and the Manager in your area will contact you to schedule an appointment to demo the software and answer any questions you or your staff may have – at no cost or obligation to you.