KRYSTAL SL .018 RX ROTH
5 PACK
The Krystal SL is manufactured using a combination of copolymers and ceramics which create a translucent glass-like material for superior cosmetics and smooth finish for comfort. With torque in the base for excellent control, the clear clip provides enhanced aesthetics. Mechanical locking base with grooves allows for adhesive to be distributed easily along the bracket base. Bracket base is formulated to minimize breakage during debonding. This new innovative bracket has a super smooth surface which will not stain, break or flex during treatment. Easy to open and close for treatment, dependable, clear and comfortable, making the Krystal SL the perfect choice for both practices and patients!
Debonding Tip: Using a dull Pin & Ligature Cutter or Straight Bracket Removing plier. Grip bracket as close to the bracket pad as possible. Then gently rock back and forth to break adhesive bond.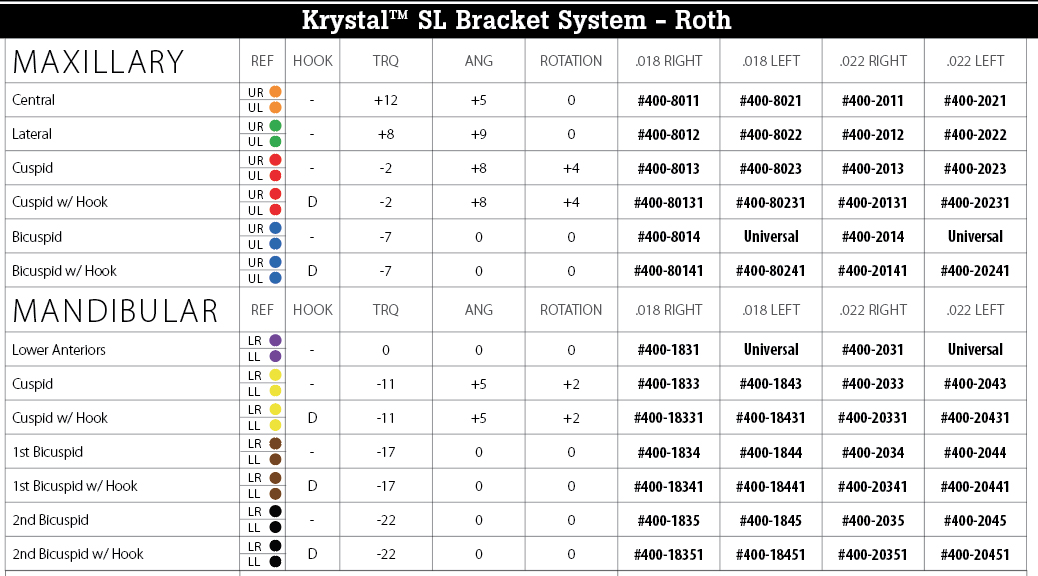 Type: MANDIBULAR UNIVERSAL
Type: MAXILLARY UNIVERSAL