ESSIX PLASTIC SHEET: TYPE "A+"
Crystal clear. Rugged, inexpensive, excellent flex memory, and a snap-in fit is insured. Light reflection properties makes the teeth look brilliant. .040" Type "A" used exclusively for moving teeth with Windows and Divots™. Acrylic will bond to Essix® Type 'A'. (Patent Pending)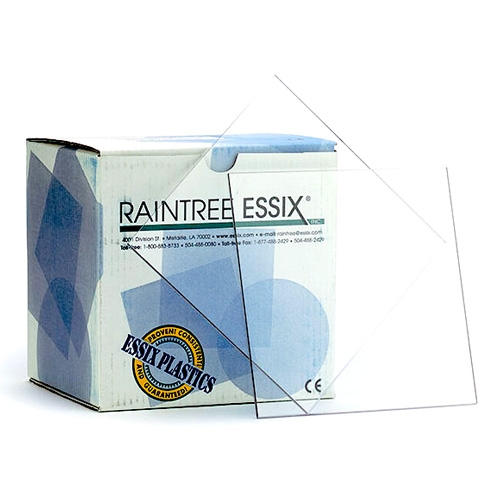 Shape: BIO/MINISTAR® 125mm Circ.
Package:
.030" (.75mm) 100 Sheets
Package:
.080" (2mm) 50 Sheets
Package:
.120" (3mm) 25 Sheets
Package:
.040" (1mm) 100 Sheets
Shape: BIOSTAR® 125mm Square
Package:
.020" (.5mm) 100 Sheets
Package:
.030" (.75mm) 100 Sheets
Package:
.080" (2mm) 50 Sheets
Package:
.040" (1mm) 100 Sheets
Shape: ERKOPRESS 120mm Circle
Package:
.030" (.75mm) 100 Sheets
Package:
.080" (2mm) 25 Sheets
Package:
.040" (1mm) 100 Sheets
Shape: VACUUM 5" Square
Package:
.020" (.5mm) 100 Sheets
Package:
.030" (.75mm) 100 Sheets
Package:
.060" (1.5mm) 50 Sheets
Package:
.080" (2mm) 50 Sheets
Package:
.120" (3mm) 25 Sheets
Package:
.040" (1mm) 100 Sheets