ESSIX PLASTIC SHEET: TYPE "A+"
Excellent when the patient wears the appliance full time. Crystal clear, and FDA allowed. Rugged, inexpensive, excellent flex memory, and a snap-in fit is insured. Light reflection properties makes the teeth look brilliant. .040 Type 'A' used exclusively for moving teeth with Windows and Divots. Acrylic will bond to Essix Type A. (Patent Pending)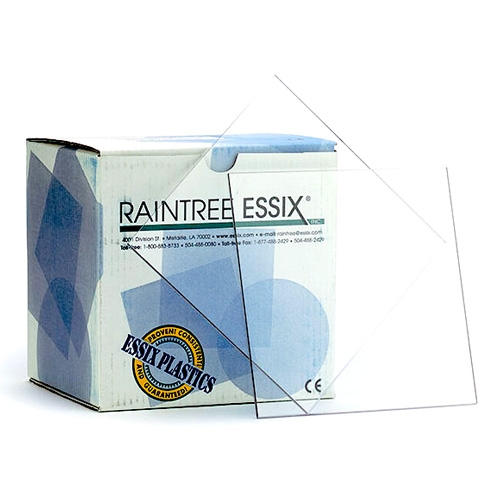 Shape: BIO/MINISTAR 125MM CIRC.
Package:
.030" (.75MM) 100 SHEETS
Package:
.080" (2MM) 50 SHEETS
Package:
.120" (3MM) 25 SHEETS
Package:
.040" (1MM) 100 SHEETS
Shape: BIOSTAR 125MM SQUARE
Package:
.020" (.5MM) 100 SHEETS
Package:
.030" (.75MM) 100 SHEETS
Package:
.080" (2MM) 50 SHEETS
Package:
.040" (1MM) 100 SHEETS
Shape: ERKOPRESS 120MM CIRCLE
Package:
.030" (.75MM) 100 SHEETS
Package:
.080" (2MM) 25 SHEETS
Package:
.040" (1MM) 100 SHEETS
Shape: VACUUM 5" SQUARE
Package:
.020" (.5MM) 100 SHEETS
Package:
.030" (.75MM) 100 SHEETS
Package:
.060" (1.5MM) 50 SHEETS
Package:
.080" (2MM) 50 SHEETS
Package:
.120" (3MM) 25 SHEETS
Package:
.040" (1MM) 100 SHEETS